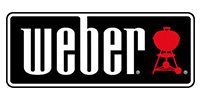 Stop by our outdoor living department to browse the latest Weber gas and wood pellet grills. You'll find the latest gas model lines*, including the Summit, Genesis, and Spirit. We also have the Smokefire wood-pellet fired grill and all the Weber grilling accessories you need to cook up your next fantastic meal.

*In-stock models subject to change.
About Weber
Weber Inc. was founded in 1893 and is a leader in the grilling industry. Weber had everything you need to fire up a new grill. Weber was founded on the belief that there is nothing better than enjoying a delicious BBQ meal outside with the ones you love. This premise is at the heart of Weber. Ranging from gas grills, charcoal grills, wood pellet grills, electric grills, and accessories, Weber has it all to cook the perfect meal.