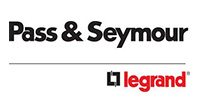 Pass & Seymour Electrical Supplies at Our Store
Pass & Seymour (made by Legrand) electrical parts and devices are know for their reliability and safety. At JB Hostetter, we stock Pass & Seymour light switches, wall receptacles, GFCI outlets, USB chargers, wall plates, and more.
Contact us for more information.
About Pass & Seymour
Pass & Seymour is a subsidiary of Legrand, a French-owned electrical products manufacturer and one of the world's largest producers of switches and sockets.