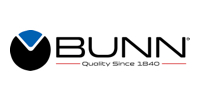 Bunn Speed Brew Coffee Machines & Supplies
Stop by our housewares department to shop Bunn Speed Brew coffee makers. We also carry Bunn brand coffee filters and Bunn Pour-o-Matic replacement carafes.
Contact us for more information.
About Bunn
Bunn is a leading global manufacturer of commercial-grade multi-cup and single-cup coffee brewers. The company's headquarters is located in Springfield, Illinois.